For the last few days, Jos A. Bank has had their 75% off sale on suits. This is one of their better sales. Normally, you have to buy one at full price to get two or three suits for "free". With this 75% sale you can get the same deal as a buy one get three, but without actually having to buy three. This is convenient if your budget only has room for two suits and not four! Also, if you don't live close to a Jos A. Bank and you still want to take advantage of the sale, you can order online as well. Generally, I find that their selection online is greater than in the stores. You also won't be pestered by sales men all the time that way.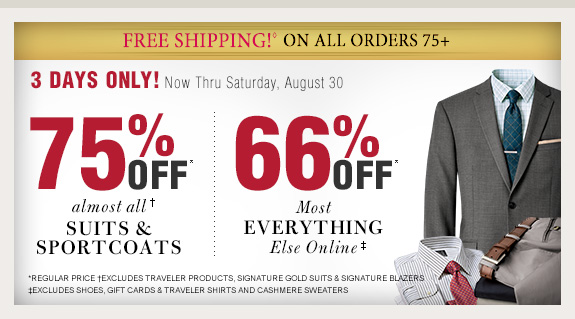 I believe this sale is only good through Saturday, August 30th, but honestly you can probably just wait another month and you'll find the same sale. Check out their website
HERE
. While you are there don't forget to scroll to the bottom of the page and check out their clearance center. They put a selection of items on clearance from time to time, so it is worth while to check often.
Happy Saving!
-Paul